Perfect location for solving logistical challenges
The ILP is located in the Novosibirsk Region, a key region of Siberia. The population of the region is 2.8 million people. Another 13 million people, almost half of the population of Siberia and the Far East, live within a radius of 700km.
Located in the centre of the Eurasian continent, and with impressive transport infrastructure, the Novosibirsk Region is the largest transport hub in Russia. Major rail, road, air, and river routes cross it. Novosibirsk connects Siberia, the Far East, and Central Asia with the European regions of Russia.
The ILP is located in close proximity to Novosibirsk and Novosibirsk International Airport (Tolmachevo); the Trans-Siberian Railway and the Irtysh R-254 federal highway run through the Park.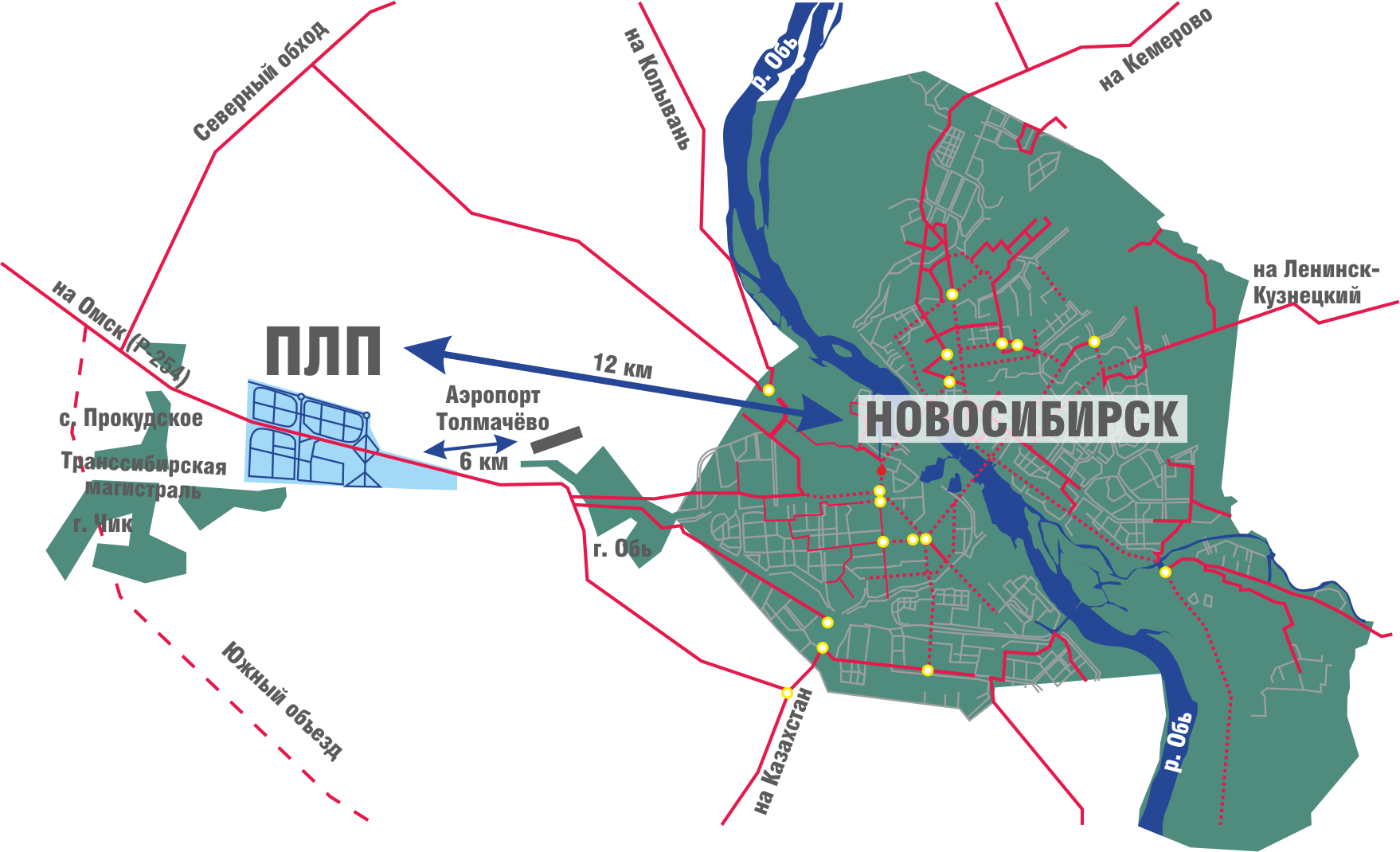 Modern engineering and transport infrastructure intended for decades of use
The railway network
consists of a sorting yard and access roads for ILP residents. A railway transport organisation provides wagon supply and collection services within the Park.
12.4 km of railway tracks
The automotive network
is a single complex of two-lane on-site roads with a high-strength cement concrete pavement, designed for continuous use by heavy trucks.
16km of high-strength roads
Power supply and heat supply
(power is received through a connection to the power supply networks). The total electrical power is 45MW. ILP residents are supplied with heat from a 16MW gas boiler upon request.
46 km of power lines, 9km of heat networks
Water disposal
the ILP water disposal system is a network of household and storm sewers and wastewater treatment plants. Domestic wastewater from each site is supplied to the ILP treatment facilities, which have a capacity of 3,500 cubic metres a day.
32 km the total length of the network
Gas supply
centrally from the gas distribution plants outside and within the ILP via the distribution network to all residents who need it. The technical gas supply capacity is 12,212 cubic metres per hour.
The entire engineering infrastructure of the Park is hidden underground in wide infrastructure corridors
Work at the site can begin in very little time
ILP Management Company is the owner of the land and the entire ILP infrastructure. This arrangement saves investors a great deal of time (which is, after all, the most valuable resource). ILP Management Company offers simplified administrative and licensing procedures for residents, such as obtaining technical specifications for connection to utilities and concluding a lease agreement.
2 months the time necessary to get up and running on the ILP if design and estimate documentation is ready
6–7 months the time necessary to get up and running on the ILP, including time for developing design and estimate documentation